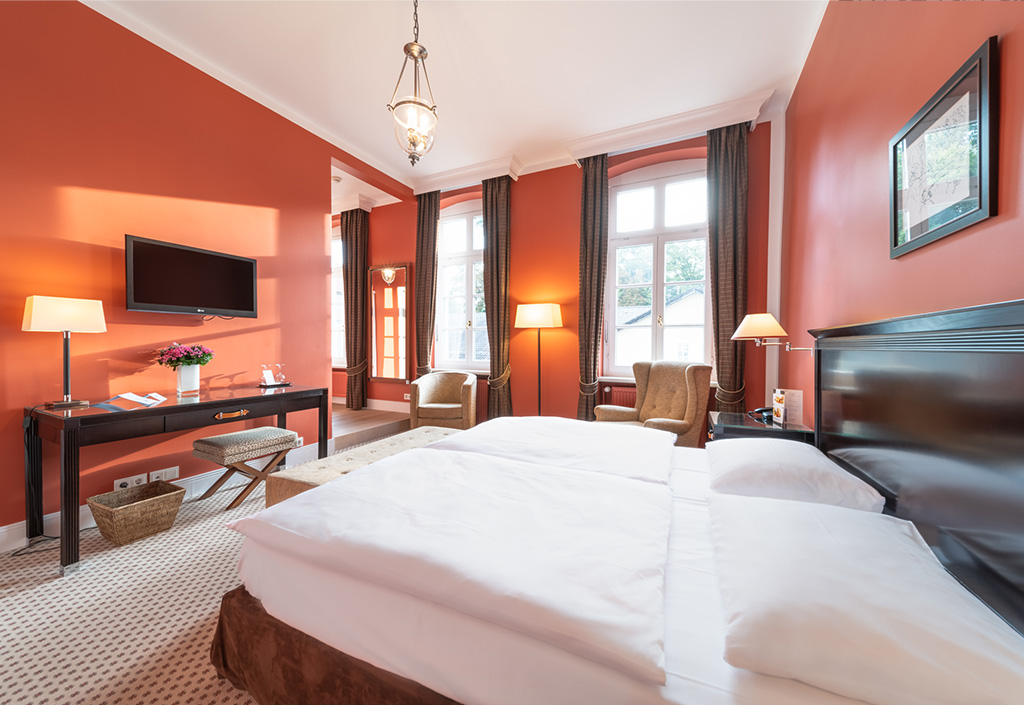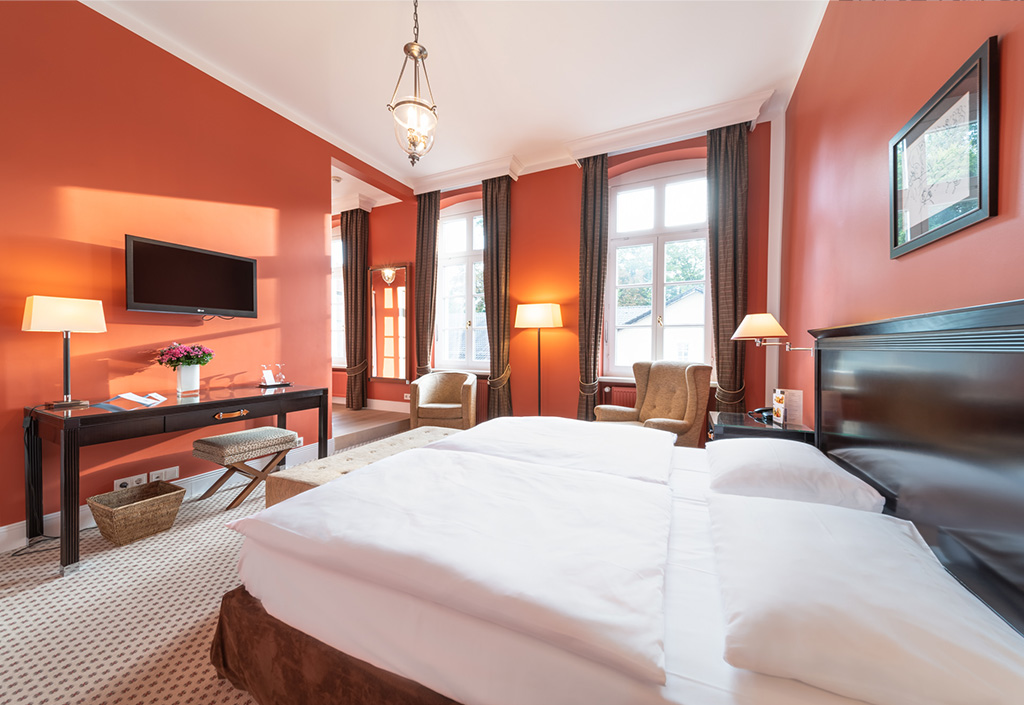 The rooms and suites at Gräflicher Park Health & Balance Resort blend design with historical elements and antiquities. Relax, read, work and sleep in one of our 135 rooms – each one unique. Countess Annabelle von Oeynhausen-Sierstorpff worked with interior designer Helen zu Oettingen to furnish the guest rooms, distributed between six guest houses, with great attention to detail. There is nowhere else in the world like it.
We have respected the traditional construction methods of the historic buildings with their mixture of straw and clay at every stage, even during renovation work, and have focused on sustainability. This ensures a healthy indoor atmosphere and better sound insulation. We offer the possibility of booking packages that have been put together to suit your needs and which already include accommodation.
All rooms are non-smoking.
Our single rooms combine cosy warmth with modern design nestled in the quiet surroundings of Gräflicher Park. These spacious single rooms offer the same amenities as a double room and are spread across the Park's several guest houses.
Single rooms from € 154 per night
Charming period details complement the modern amenities of your comfortable room. Equipped with a generous queen-sized bed, you are guaranteed a healthy and rejuvenating sleep. After a pleasant evening, look forward to a sumptuous breakfast buffet in Caspar's Restaurant, where your gaze will wander through the high windows bathed in light to the greenery of our expansive park.
Double room occupancy from € 99.50 p.p./night
Single occupancy from € 164 per night
Stay in one of our generously proportioned superior-category double rooms and enjoy the cosy, welcoming ambiance created by the combination of modern furnishings with unique artistic works from the Oeynhausen-Sierstorpff family collection. The following morning, you can enjoy the rich variety of the breakfast buffet in Caspar's Restaurant.
Double room occupancy from € 114.50 p.p./night
Single occupancy from € 184 per night
Our deluxe double rooms are particularly spacious and furnished to a high standard. In one of these elegant, high-ceilinged rooms, each of which employs its own, individual colour palette and distinct style, you will experience a relaxed, comfortable sense of well-being, allowing you to enjoy the perfect tranquillity of Gräflicher Park. A short walk will bring you to the breakfast buffet in Caspar's Restaurant, the fountain arcade with healing waters from three springs, or to the renowned Gräflicher Park Health & Balance Resort spa area.
Double room occupancy from € 124.50 p.p./night
Single occupancy from € 204 per night
The graceful elegance of our lavish junior suites will be the jewel in the crown of your spa or business stay in Bad Driburg. You will feel at home as soon as you set foot in one of our luxuriously furnished, spacious living and sleeping areas, ensuring you can enjoy every second of the understated luxury fit for nobility. Plenty of space in the living and sleeping area and a large bathroom will make your stay at Gräflicher Park a very special experience.
Double room occupancy from € 134.50 p.p./night
Single occupancy from € 224 per night